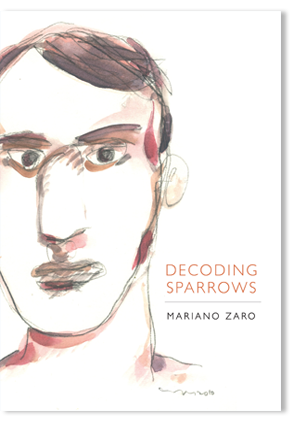 These poems explore the author's boyhood in a Spanish village, his coming of age and his arrival to California in his 20's. A series of characters marginalized by society interact with the speaker and help him understand his uniqueness and difference. Intimacy, sexuality, and desire are expressed in spare, narrative language.
DECODING SPARROWS
My father and I on the balcony
watch dozens of sparrows walking
on the roofs across from us.
A sparrow doesn't really know how to make a nest, he says.
They are messy. Now, a stork, that's different.
A stork makes a perfect nest.
My father looks at the clouds.
Can you tell a male from a female sparrow? He asks.
No, I can't. I say.
Look, male sparrows have a dark stain on the chest,
like a bib or an apron. Females don't.
And I look,
and there they are:
chests with aprons, chests without aprons.
Everything in order.
Clean or dirty,
black or white,
male or female.
I cross my arms against my chest.
My father does not look at me.
And then he says,
But we are not sparrows, you know.