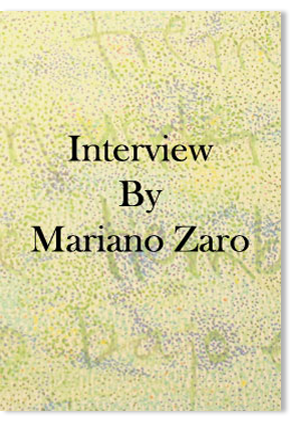 Interview by Mariano Zaro
Philomene Long: the Essential Poet, the Mystic Poet. A conversation with Philomene Long at her Venice apartment on June 20, 2004.
Childhood
Philomene Long was born in Greenwich Village, New York, August 17, 1940. Her mother, Maureen Coghlan Long, came from Ireland to Greenwich Village to become a writer. Born in the House of Kilclousha in Buttevant, County Cork she was the descendant of Irish royalty (entombed in the Cathedral of Clonmashnoise). Philomene's father, Paul B. Long, was a Southern Gentleman from Virginia, whose ancestor (Waren Fitz Gerold) placed the Magna Carta in the hands of King John.
Philomene says: "When my mother saw me for the first time she said: 'Oh, my God! A Mother Superior!' I had been born into a world on fire. I had come into a world of holocaust. By the expression on my newborn face it seemed that after my first glance upon the world I appeared ready to leave it. But instead, I went to live with my mother, father and sister Pegarty at 17 Minetta Lane, a few blocks from Washington Park. Among my first memories were of my father going off to the war and my mother's hands closing the air raid black-out curtains."
I asked her about her most relevant childhood experiences and this was her answer: "Let me start with a story; a short story. When I was four years old I was in the backyard with somebody I called "Miss Aunt Whistle." I just named her that because she whistled. She was living with us for a while. I sat down in this backyard with her and she told me that if I sat very still a golden bird would come. And I sat so still, and I sat, and I sat, and I sat until I saw every blade of grass, and everything became white, and I guess omnipresent and so still, and a golden bird came, a real golden bird came. If I have to label this experience I would say this was my first moment of Zen. Of course I didn't have words to explain it. I was four years old." Philomene considers this experience as the source of all her poems.
There is another experience that Philomene remembers as emblematic of her childhood. "When I was six years old I had a part in a play where I dressed in white. Here it begins– my white fetish. I had to walk onto the stage and wave a wand and everything became still. I stood up, waved my wand and everything stopped."
In these episodes Philomene discovers then the power of stillness, observation and intention. Most of all she discovers the power of transforming reality or, let's say it more clearly, the power of creating another reality by entering "the real world" more subtly.
Since the very beginning Philomene's world is the world of writers and poets. As she says, "I felt I was selected. I was destined to this life of poetry."
At fifteen, the Muse came
"My first experience receiving the Muse was in 1955. I was fifteen years old. I was alone standing in the middle of a room, and asked myself the question: 'How does one write a poem?' And then– it was literally what Allen Gingsberg called the slow lightening of the Muse — bolts entering me. Biblical. I went into little convulsions and wrote a poem. It was a bad poem, but it was published in the Catholic Anthology of American Poetry."
Philomene describes the poems that she wrote at this time as California gothic. "They were about horror, insanity, highschoolish suicide, life and death." (Some of these poems still survive.)
Philomene's mother understood her daughter's talent. "My mother let me stay home from school when I told her I had 'a poem in me.' I soon learned that it was much more difficult to stay home and write the poem than it was to go to school. She also told me that my poems had the rhythms of Edgar Allan Poe. I was embarrassed because I hadn't read this author. I have to say that, in a way, Emily Dickinson was also in these poems. For a high school English class, I had to memorize a poem so I memorized a Emily Dickinson poem. I still remember it. There is chiaroscuro — a black and white aspect, even in my later poems – with the clothes I wear as well — a mixture of Emily Dickinson and Edgar Allan Poe."
The convent, lost poems
Philomene's mother died on March 31, 1958, when she was 17 years old. Six months later she entered the convent on September 15, 1958. There she continued to write poems. But they are now lost. (Only references to them in letters she wrote to her sister Pegarty and a few lines from a poem she wrote to and about her.)
"I used to drop poems in the nun's pockets. So they are all gone. But they disappeared into a fine place – into the minds of those nuns. Thirty years after I left the convent one nun thanked me for the poetry I had secretly given her during those years."
There is an episode in the convent that seems like a replica of one of her childhood experiences. "Sometimes, in the convent, the nuns would put on plays. There was one play in which I was dressed in a white habit. (The nuns usually wore black.) Oddly enough Emily Dickinson refers to her habit of dressing in white as her 'white habit.' In this particular play, when I walked on the stage dressed all in white, something strange happened. Many nuns seemed to see something. They became quiet – quieter, I should say. I do not know what they saw. But for the next few days they appeared afraid of me."
With her witty humor she explains: "In another theater play we performed in the convent I was a bad brother. So instead of becoming a good sister I became a bad brother and finally left."
She escaped from the convent in the middle of the night down the side of the mountain. It was 1963. At 23 she started a new life.
From the convent to the Beat Generation
When Philomene came out of the convent she joined the Beat generation; eventually settling in Venice, California. "I lived in the underworld. I lived with artists and outsiders. For me, being a nun, had been a way of leaving an absurd and cruel world. Now I was in the world, but out of it at the same time."
More lost poems
I wanted to know more about the literary production of Philomene Long in these years, since she left the convent in 1963 and entered the bohemian life. Her answer was tinted with sadness. "Here there are more lost poems. I have some of them. But most were created on the spot spontaneously. They are in the air; blowing in the air. Or, I suppose– back to their source. After creating anything I have always had the opposite instinct of erasing it. I spent 1963 to 1968 erasing my — what has been called ordinary mind – until the bottom dropped out of the world and I experienced what that small gold bird foreshadowed or, I should say foreluminated: what Jack Kerouac called 'Golden Eternity'– the source of my poems."
Stuart Z. Perkoff
Stuart Perkoff entered the core of Philomene's personal and literary life. Although one learns that in Philomene's case life and poetry are just one single unit.
This is what he wrote about her.
Philomene
daughter or lite
bring your luminous dance
to open new visions
within the black
against which
all struggle.
Stuart Perkoff's death is especially symbolic for Philomene. "Stuart died on June 24, 1974, between 2:30 and 3:00 am. His death was my mother's death. With him I had the connection I had with my mother. And, of course, there was also the connection with the Muse. He called himself "the priest of the Muse." There was an exchange between us. Stuart saw into me and I saw into him. But I didn't have a dialogue with his poetry, that only happened with John Thomas."
I asked her about the titles of some of the poems written at this time. "One day I went to the ocean and, (I feel funny saying this) I received a poem. I went home and I wrote it verbatim. It was called Song. It was a very rhythmic poem– like waves — basically waves. Another is called She. It is about the visitation of the Muse."
I also asked Philomene about the last visitation of the Muse. "Oh, the last visitation of the Muse was last October 1 (2003) on the Venice shoreline. I felt that she was entering my flesh — as if I was becoming the Muse."
This is the poem that Philomene wrote after Stuart's death.
Requiem
for Stuart Perkoff
Refuse to sleep
To be absorbed
By that from which you drank.
Do not go blind and speechless
To that dark and wordless thing.
Heaven's tired
Of its faint whisperings.
Let it grow loud.
John Thomas
"My mayor literary production is with John, as his with me. He wrote 74 poems before we got together and a thousand, exactly a thousand pages of poems when he was with me. What is the ratio of 74 to a 1,000? He had a reputation for two decades of being a mayor underground poet with 74 poems. And he would laugh, he would go to readings and read the same poems over and over again. And then he did not write for 18 years. And then a thousand pages of poetry."
From 1983 to 2002 (the year of John's death) Philomene Long wrote The Ellison Poems, The Raven Poems, The California Mission Poems and love poems. Philomene writes in series. "Small poems inside a large poem." She also wrote prose, the recollection of her years in the convent Memoirs of a Nun on Fire and one book of stories about Maezumi Roshi American Zen Bones. With John Thomas she wrote The Book of Sleep, The Ghost of Venice West.
This is the way Philomene explains her relationship with John: "I am going to tell you something that John once wrote. Is the story of these children that developed their own language, and they were separated for years and years and years. And one of these children is John and the other is Philomene. We reached deep, deep, deep in to every layer of life, to the bottom and to me summit." Then I said, Philomene so you created a world for both of you. And Philomene corrected me: "It was not a world, it was the world."
Reflecting on Philomene's life one could say that she always lived outside. Outside in the convent, outside the mainstream society as a bohemian, and then out of the world again in the universe she created with John Thomas. She adds, "With John we were outside together." She wrote to John "Your absence invades my privacy".
John and Philomene had, I believe, two forces working simultaneously. One was the creative force, they created together. The other was the metalinguistic force, they could talk and process the poems together.
After John Thomas
John Thomas died on Good Friday 2002, at 3:00 p.m., exactly 19 years after they came together; as Philomene says: "Nineteen years to the hour." Following his death she wrote "Pieta in Los Angeles", "Conversations with Dust" and "Whispers Within a Tomb" as well as a series of poems about Roman and Greek philosophers.
After John's death everybody wondered how this was going to affect Philomene's life and creativity.
"The week before John passed away I told him I had learned that 'not even death can separate us.' He replied that he had realized the very same that week– that I am always with him.
During my last conversation with him he told me he felt his heart was weak that day. He said: 'They did not touch it– our connection. Nothing can touch it.' His eyes became an intense brown. Great power. 'They did not touch it. Nothing can touch it– our love. Philomene, if I die, it can't touch it. If you die, it can't touch it. If we both die, it can't touch it. Nothing can touch it!'
And death has not. And, yes, we still write– poems so silent that only he and I can hear."
The essential poet. The mystic poet.
Philomene Long is an essential poet. There is nothing superfluous in her literary production. Some poets can write about anything. She cannot. The beauty of her work is a necessary beauty. Philomene writes what she has to write even if the task appears impossible. Maybe just because the task is impossible.
I consider Philomene Long a mystic poet for two reasons. First her poetry, that appears evident and clear is always woven in an mystery that the reader has to unveil. That is her way to connect to the reader. Not buy giving answers, but by posing questions. In her poetry there is always something inexplicable, something that we seem to know although we don't understand. Second, Philomene, as all the great mystic poets do, tries to create a language to express what cannot be said. This battle, this painful and luminous impossibility is the matter of Philomene's poetic voice.
And from the unnamable
There is one birth, one death
Immense, yet, one small cup contains it
There is one book, one writer
And the reader, the writer, the book
Are one.
(from Genesis)